FAKE 2020 CC1 v Notts @Trent Bridge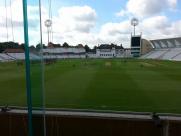 By Grockle et al
April 11 2020
The parallel universe continues with the second CC1 fixture at Nottingham. Somerset come off a victory at Kent while Notts are looking to do better than their firstb loss against Yorkshire. Azhar Ali is fit and ready to go.... for another season and Tom Banton steps down to allow him to step up. We stay with 2 spinners. So off we go again....
V Nottinghamshire CC1 @Trent Bridge Saturday 11 April 2020
Our first 'virtual' away game in the East Midlands. After the game at Taunton we have decided to make only one change to the side that beat Kent. Azhar Ali enters the campaign after a minor injury and Tom Banton makes way for him at number 3. The side therefore is;
Abell (Capt), Carberry, Ali, Hildreth, Bartlett, Davies (Wk), Gregory, Bess, Overton C, Overton J, Leach
It's an overcast morning for Day 1 but Tom Abell requests a toss and on winning it decides to bat first. With 2 spinners the visitors probably want to have a blast at the home side on a possibly worn pitch on Day 3 and 4. It's a theory, we will all see if it works.
DAY 1
More to come
Stuart Broad is available for Notts though it is Pattinson who bowls first at Tom Abell and Mike Carberry. After the first two over clash both Somerset batsmen are off the mark with singles and there are 4 runs on the board. It is a tight spell from the Nottinghamshire opening pair and it is too much for Somerset's skipper who plays all around a straight one from Broad and is clean bowled for 5 with the score on 12. First blood for the home side.
Azhar Ali returns for a second bite at effectively the 2020 season (Matt Wade would have been the international but as he has been forced to stay at home and this is the 2019 squad database we welcome back the man from Pakistan). He is off the mark in 3 balls but his initial play is a little static and one could not say Somerset are streaking ahead as both batsmen are watchful.
Ball and Fletcher are on first change in the 13th and 14th overs respectively but after an hour the score is only 23 with Carberry on 15 and Ali taking no chances at all on 3. It is not until the 22nd over that there is a boundary which prompts another change with Mullaney starting his account in the 23rd.
Pattison returns in the 26th and has Carberry slightly doubtfully called LBW for 30 two short of the Somerset 50. After just starting to look stable, the batsmen have to reset, although as James Hildreth opens his account with a boundary to bring up said 50 and then takes Mullaney for two more in the next over maybe the reset has already happened?
Broad is back for the 31st just before the lunch break and Somerset end the session on 68 for 2 with Azhar on 16 from 71 balls and James nearly up to him with 14 off 20!! Is Ali nervous or just over cautious? Having said that, the initial bowling effort from Notts has been tight with wickets for the opening pair and neither giving away more than 20. Good support from Ball, Fletcher and Mullaney also. Notts certainly will feel happier about the first 2 hours.
Somerset Optimists have asssessed that only losing 2 wickets was a good thing. They probably weren't as happy when James Hildreth goes LBW to Broad in the first over after the lunchbreak for 14 with a score of 69 for 3. It doesn't get any better as Pattinson comprehensively bowls Bartlett before he gets into the groove or onto the scorecard at 74 for4.
Pattinson is unlucky not to have Steve Davies in the 40th before the score passes 90 but that one was not to be and possibly made up for the decision against Carberry in the first session. Meanwhile Ali is holding himself in check as his timing is not quite there and he edges one to the feet of first slip before driving to the rope to bring up the Somerset 100. He then edges again the next ball. It is not easy for the Pakistani at the moment.
Ball and Fletcher take over in the 42nd and the 45th respectively and the change upsets Davies' balance. Almost immediately he pops up a soft close catch to Patel off Fletcher. It's a shame as the 54 runs partnership between him and Ali has been the best part of the session to that point.
Coughlin becomes the 5th bowler for the 54th and almost immediately hits Gregory who hasn't got his length while the bowler hasn't sorted out his line. It obviously hurts the Somerset man but he takes the pain as it is close to tea. Azhar takes a boundary off Mullaney in the 57th to reach a very hard fought 52 (166 balls with 4 fours). It has been hard start to the season for AA. 143 for 5 passes 150 and reaches 156 at the Tea interval. Ali has 58, Lewis has moved on to 10 with the opening bowling attack of Broad (2 for 21) and Pattinson (2 for 36) still being dangerous every time they run up to the wicket.
Ali takes a boundary off Broad's first after Tea but at the other end, Pattinson is very unlucky to not get Gregory in the 74th at 179 for 5 and again but not as close in the 76th. Mullaney is on two overs later and he nearly gets Ali as the Somerset men seem to lose their discipline. Even so the 200 comes up with Ali on 75 and Gregory 35. Ball finishes off with the old pill and in the 82nd Broad takes the new ball.
Gregory goes to 50 at 222 for 5 (105 balls and 5 fours) but both are still playing and missing. LBW calls are coming thick and fast and it is no surprise that eventually one of the batsmen is not as lucky. Azhar walks across a Ball delivery, gets an inside edge through to the keeper Moores departing for 86 at 236 for 6.
Dom Bess cracks his second ball for four and although there is a yet another call for LBW from the penultimate ball of the last over, Somerset go in 249 for 6 with Gregory on 64 and Bess finishing with 6. A long fighting day.
Excellent bowling all day from Broad (23/1/45/2) and Pattinson (23/1/66/2). Ball offered good support (20/5/44/1) with Fletcher, Mullaney and Coughlin backing up the front attack well. The 108 run partnership between Ali and Gregory was the event of the session and the sides have probably finished the first day even - ish.
DAY2
Easter Sunday starts with promise as Dom sends Somerset to 200 with the 2nd ball of the morning but it only lasts 37 minutes as he himself is caught behind off Broad for 7 at 255 in the 99th over. Gregory is then also a Broad victim early LBW to a ball hiting middle halfway up for 71 at 260. This puts the Overtons in together, sometimes a joy shortlived and sometimes not. Jamie is off the mark with a majestic and powerful four while in the next over Pattinson is hit into the pavilion by the other brother and taken for another boundry by his sibling.
But it doesn't last and Craig also falls to Broad LBW for 11 at 277 and then Jack is caught first ball of a new Pattinson over by an inswinging yorker than smacks him plumb in front on the boot
Somerset all out for 278 in the said 37 minutes thanks to 5 for 55 from Stuart Broad and 3 for 85 from James Pattinson. A thouroughly professional and clinical end to an innings by the pair without the need of support this Easter morning.
We can now see the Nottinghamshire side in all its glory as they prepare to face their first innings;
Duckett, Libby, Patel, Clarke, Mullaney, Moores, Coughline, Pattinson, Broad Fletcher and Ball
I can't say it fills me with fear but I can say I would rather have set them over 300 than just over 250 but it is what it is and we are where we are. Duckett and Libby walk out to face Gregory and Craig Overton with about 75 minutes before the lunch interval.
So at 11:46 the second phase of the game starts. The first boundary arrives with the fourth ball of Gregory's starting over. Ben Duckett is setting out his stall. He is not messing about and when he takes Craig for 8 off the 7th over it prompts Tom Abell to change brothers in the 9th. It doesn't stop Duckett who takes his side past 50 with a 6 but Jamie does have Libby caught in the infield for 17 at 53.
With about half an hour to go the Somerset strategy turns to spin as Jack Leach is introduced only to be hit out of the ground by Samit Patel in their first encounter. Spinners are used to this and Jack keeps to his task. Lo and behold Samit mistimes one and 'dollies' to Craig Overton in the same over.
This encourages Somerset to try spin at both ends and Dom Bess is introduced for a few before the break. He nearly has Clarke run out in his first over as the Notts men seem a little disconcerted by this approach. In fact Duckett does not get far enough forward to a Leach delivery and is sent back to the hutch LBW for 44 and it is 77 for 3 with 15 minutes to go. With his last over before lunch Leach ends an important spell with Clarke's wicket at 86. Moores arrives to face 6 balls and you would expect him to block them out. No such luck. He takes 13 off Dom Bess and the home side stride in defiantly at 100 for 4.
A bad start for the visitors in terms of attacking retrieved by the skill of their England spinner who has turned the game around in 35 minutes and put the home side on the back foot heading into the afternoon..
Notts need someone to stand in the second session as Somerset start with Jack Leach at one end and jamie Overton at the other. It is the paceman who takes the first wicket with Mullaney LBW for 14 at 110 for 5 and it almost gets worse when Moores, who has barely had time to take guard, is dropped by Hildreth, a good effort and it would have been a stupendous catch.
Somerset keep Overton on for one over too many and Moore's takes advantage of his second life with a flurry of boundaries. Gregory replaces the fast man but fares no better as Moores gets into his stride very well. He takes 12 from a Gregory over and forces Abell to connsider another option bringing Bess on and giving Jack Leach a rest by introducing himself in the 40th.
Nevertheless Moores goes to an excellent 50 from 66 balls with 10 boundaries though the new attack does have him playing and missing more than once and Bess also has an LBW shouot turned down before the wicketkeeper brings up the 200 in the 47th. Leach returns and has Coughlin caught close in by Hildreth with the first ball of his new spell. He then beats Pattinson twice before the man has found his feet while Lewis, returning at the other end nearly hhas Moores LBW in the 49th. In relatiation Moores sends a ball from Mr Gregory into the stands after a tight over. Tea arrives with Notts on 221 for 6 - a much stronger position than 2 hours ago with Somerset shaking their heads on what combination of bowlers affords their best chance of closing this innings down.
Jack Leach has been the stand out bowler with 4 for 45 while Jamie Overton has taken 2 for nearly the same maount of runs (44). But the 93 put on by Moores and Coughlin have moved this game on and Moores is still there with 72, looking in little difficulty and taking runs from nearly every one at will. Pattinson has 14 and the Somerset lead is now only 56.
Moores and Pattinson return to the crease seemingly determined to maintain the initiative but it nearly ends at 236 when Moores 'guides' one just past the despairing fiingers of the Somerset slip cordon. The 250 arrives without further incident but Craig Overton then dispatches Pattinson for 21 at 251 caught by Hildreth in the same slip cordon. A change of Overton brings about the next wicket as Jamie takes out Broad's middle and off stumps simply beating the man for pace. 251 for 8.
In the 69th Abell replaces Jack Leach once more with Gregory who immediately gets an LBW decision against Moores who has been living on his luck for a few overs. He unfortunately goes only 3 short of a well deserved century - a situation that has been common to the last two games where many batsmen have gone in the mid 90's, single figures from the desired hundred.
At 254 for 9 Luke Fletcher thick edges for 4 but he doesn't hang around too long before he is bowled 'neck and crop' by Gregory a mere 10 behind. Moores was the awkward batsman for Somerset. The 48 run partnership with Pattinson helped the tail wag and kept Notts in this fight.
Now Somerset have to survive 40 minutes before Day 2 ends. It is not going to be easy with Broad and Pattinson getting 2 bites of a new ball.
However Abell and Carberry set themselves to the task with the captain getting off the mark in Broad's first over before he takes 8 from Pattinson's first. Carberry has to wait until the third over to make a run and then has to survive a caught behind appeall before he gets into his stride. Once that happens he plays with real quality with the best shot being a sublime straight drive back past James Pattinson who takeas some hammer in this last stage. The opening batsmen look pretty solid, bringing up the 50 with the fourth ball of the last over of the day. 51 without loss at the end of Day 2 with Mike Carberry with 32 and Tom Abell with 17.
DAY 3
Tom Abell makes is intent clear with the second ball of the day when he straight sixes Stuart Broad back over his head into the Trescothick Pavilion. He and Carberry loot 10 off the first over and seems to be determined to get on with this, so much so that the Notts bowlers nearly have both of them out playing and missing in the second and third overs.
Nevertheless they survive and Mike goes to a well deserved and compact 50 (83 balls and 7 fours) with a run off Coughlin in the 31st. Ball takes over at the other end in the 32nd but the Somerset score passes 100 witout loss in the 36th. Notts try to stem the flow with Fletcher in the 33rd and Mullaney in the 34th but Abell joins his partner on 50 (97 balls 5x4 and 1x6) and despite an effort to get the more attacking new ball pair back on before the lunch break (Pattinson makes both batsmen give chances in the 43rd), Somerset go into the interval wihtout loss on 159 with Carberry on 80 and Abell on 61.
Notts have to stem this tide of runs, though nothing looks less likely at this stage of Day 3!! A Somerset morning one would have to say.
Once more Broad and Pasttinson start a session. The last one did not go well and this one needs to be a distinct improvement. Things start looking up 4 overs in when Pattinson finally gets Carberry to miss one and has an LBW decision at 160 as the Somerset opener finally leaves with 86 to his name. His replacement Ali scratches around a bit but doesn't get anywhere and he is soon on his way back as well as Pattinson doubles his victims with another LBW at 163.
Ball takes over for the 52nd with Coughlin on in the 55th while Abell looks to move the score on. But Coughlin weighs in with the wicket of Hildreth caught by Mullaney at second slip at 193 (200 runs ahead) in the 61st. Ball then bowls the Somerset captain for 84 to cause the visitors to reset their plans at 194 for 4. One hopes they didn't do it quickly because Barlett will not be part of them as he is also dismissed LBW to Fletcher at 197. The new pair of Gregory and Davies settle in and bring up the 200 off Mullaney and all becomes quiet once again as the score moves on to 231 at the Tea interval. Not the racing away planned one would suggest but Somerset are still 241 ahead with 5 wicket still required.
What is a good, defendable score on this Trent Bridge pitch for a side eyeing a victory on Day 4? I woonder if Notts will allow Somerset to decide or will they simply take the wickets and get on with knocking off the lead?
After the short period off the pitch the 250 comes up quite quickly. Somerset move to 250 ahead in the 78th and go past the physical score of 250 in the 80th. Notts take the new ball in the 83rd after which Davies and Gregory try to 'ramp it up' a six and a beautiful on drive from Lewis. But Broad keeps at it and has him caught behind very soon after this at 284 for a very good 46. in the 92nd.
Dom Bess comes in and has a very torrid time with one excellent ball that zips past leg, after which he is dropped in the slips. Fletcher keeps at hoim and gets him LBW for a single 286 for 7. Ball then gets Craig Overton cheaply with a marvellous inswingewr to the base of the middle stump. He does not score.
Meanwhile Steve Davies keeps the other end ticking and takes his side past 300 with 12 in one Fletcher over and 50 for himself at 301 from 106 balls with 7 fours. But the other end keeps falling. Fletcher clean bowls Jamie Overton for 1 in the 100th but Jack gets off the mark with a very aggressive four but it is now Davies who fails as Coughlin gets him caught in front with the first ball of the 103rd for 62. All out for 318 and 328 ahead.
The 160 run first wiclket partnership was the base of this innings though 87 between Davies and Gregory helped and the 30 from Abell and Hildreth helped. None of the rest made more than 20.
The wickets were shared more equally in the second Notts bowling effort with all the men adding something to the end result.
The Overtons got an over each at the Notts openers but 6 for 0 is the end of the day score.
DAY 4
Ben Duckett came out aggressively in the first knock and he seems to be of the same mindset for the second push. He hit a four from the second ball and swiped and missed in the second over. He is not going to die wondering. Jamie Overton is on for the 9th after Libby hits his brother for 10 off the 8th. The paceman thinks he has Duckett caught behind in the 11th. The umpire did not agree and Notts cruise to 50 in the 12th with both batsmen roughly equal in the 20's.
Tom Abell brings himself on as a change and he makes the first breakthrough having Libby caught at silly mid on for 28 at 57 for 1. The introduction of Jack Leach is a main aspect of Somerset's plan and he gets Patel quickly as the change in speed fools the batsman and he flips one to Jamie Overton for 3 at 68 for 2.
It doesn't get better when Duckett is a little too 'cocky' and gets cleaned up trying to play through a ball that isn't where he thought it was from the Somerset captain. He then moves into a full slow attack introducing Dom in the 23rd at 89 for 3. Notts pass 100 in the 26th with a big job in front of Clarke and Mullaney.
Just before the lunch break Jamie is introduced for a blast and immediately cleans out Mullaney for 27 at 139 for 4. This encourages Bess who also gets into the act having Clarke caught in the slip cordon for 34 by James Hildreth.
139 for 5 is a fingertip from 144 for 5 when Bess fumbles and does not hold on to a fairly routine caught and bowled involving Moores just before lunch. 185 behind with 5 wickets left and them mostly bowlers!!
Somerset must have been confident that this game was theirs - it really ought to have been but 'tails' can be notoriously difficult to winkle out. Somerset know this, it has happened to them more than once.
The 150 came up in the second over but it must have seemed like business as usual when Moores was dismissed for 8 caught at second slip at 164. Tom Abell and Jack Leach come on in the 43rd and 44th overs and then Dom is introduced in the 53rd. Almost routinely Coughlin is caught behind off Leach for 28 at 188. The 200 arrives in the 57th.
But Pattinson and Broad refuse to be cowed by the situation and despite close calls they move the score on and become more and more difficult to get rid of. Boundaries are coming nearly every over and the total is coming down worryingly. By the Tea interval Notts have 276. A mere 53 behind and Pattinson has 54 while his partner Broad has 45. Maybe they shared the bowling but they are determined not to share the batting. This is NOT GOOD for the visitors.
Tom Abell must have hoped that the momentum of Pattinson and Broad would have been upset by the enforced stop for Tea. It does not seem to have had that effect. With not much left the score keeps rising as both find the boundary rope far too often despite the actions of Jack Leach and Jamie Overton and then Tom Abell himself. He doesn't seem to be too keen on using Craig Overton as he was taken for 5 an over in his one spell and that is more than the boweling side can afford. Although Jack has them playing and missing they are taking too many runs off any seamer he puts in front of them.
The 8th wicket partnership is up to 130 and Notts need only 11 runs to win an unlikely victory when the breakthrough comes!! Jack finally removes Pattinson LBW for a phenomenal 81 but it is too late surely. Tom tries Lewis as a last gasp with Fletcher, Broad, Ball and 8 runs between his side and disaster.
And the gamble works!! At 320for 8 George Bartlett holds on to a snick from Broad who falls with 61 from 89 to his name and 6 runs later Lewis Greogry holds on to a return catch from Luke Fletcher and SOMERSET WIN BY 2 RUNS!!
A more 'to and fro' game there could not have been. Good performances rubbed shoulders with mediocre ones on both sides. There were moments of glory and moments of despair and in the end the side from the West Country sit on top of the Championship with 21 points from a game they very very nearly threw away in the afternoon sun of Day 4!!
pqs: qs: