The Long and winding Room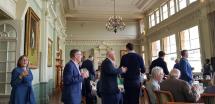 No Long faces
By Beefy Roberts
February 3 2020
Beefy reports on our birthday lunch celebration. A new venue and a diversion. Most importantly a more enjoyable occasion than expected.
Today is the 156th birthday (rumour has it Seaxe Man was around then) of our wonderful club. A special lunch is being held to celebrate the occasion.
An email was sent in advance regarding the lunch menu etc. For the Pelham restaurant a dress code of no jeans/trainers was enforced. I didn't like this yet again another rule set by the landlords. Nevertheless, I still decided to go along. A number of the usual suspects boycotted this event.
Here we go again at the Grace Gates the usual pat down and security checks as I show my meal invite. Bad start for me.
Walking in I passed the empty Pelham's, what's going on is anyone here? I was diverted back to Pavilion entrance, Due to heating not working the party was moved to the Long Room,
There were 14 tables of 8 in Long Room dining room. The company was excellent. I admit I was the first to complain about price/dress code for today, however, £30 to dine in Long Room was not that bad value the meal was tasty and service quick including the bar. The added bonus me in the Long Room without jacket and tie.
Call the police
There was a pre lunch introduction by Gus and after meal he led a Q&A with Max, Toby and The Law Man. Mike O'Farrell also said a piece. Buy me a drink a may reveal what I can. The outlook is generally optimistic.
With the surprise of dining in the Long Room it was a nice way to celebrate our birthday. Many thanks go to Loz and Julie for their hard work in arranging.
pqs: qs: